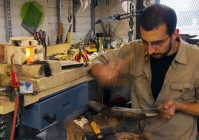 Paul DeBlassie Biography
Paul DeBlassie has been a metalsmith since 1994. Taking inspiration from traditional blacksmithing he has created a unique line of forged titanium jewelry for men and women. He has also created a series of women's forged titanium jewelry using Herkimer Diamonds, industrial grade diamonds, and other stones, as well as a line of cuff bracelets reminiscent of Celtic neck torcs. His gold and silver jewelry is inspired by architectural scrollwork, translating singular floral elements into three-dimensional ornaments.
"I'm attracted to working titanium the way I would if I were forging a sculptural element intended for architecture. In this case the architecture is the human body. I am also inspired by Victorian, Renaissance, and Baroque scrollwork, and various styles of ironwork. I find it interesting to take design intended to ornament the spaces we inhabit and translate it into embellishment for the body. Each titanium item has been worked by hand, so each is satisfyingly unique.
I love referring to scrollwork for my gold and silver jewelry designs. I aim to reduce the clutter of architectural scrollwork into singular pods, leaves, or rosettes, allowing the beauty of that one element to have the focus of attention. Ultimately I endeavor to produce jewelry that offers men and women a sense of unique but simple adornment."
Paul DeBlassie was born in Ft. Collins, Colorado and grew up in Albuquerque, New Mexico. He began designing and producing jewelry in 1994, after taking jewelry arts classes that were offered in his high school. He went on to study sculpture at the University of New Mexico receiving his BFA in 2000. He moved to New York City pursuing further studies in art and metal, receiving his MFA in Sculpture from Hunter College in 2003. In the same year DeBlassie began working as a technician at Parsons the New School for Design, Product Design Department. In 2006 he began teaching metal fabrication and design at Parsons until 2009. Additionally, from 2003 to 2011, DeBlassie worked as a production manager and project assistant for the designer Ted Muehling, in Manhattan. From 2006 to 2011 DeBlassie began a studio practice in Brooklyn, NY near where he lived. He began a production line that is being carried by several showrooms on the East and West Coasts

In March of 2011 DeBlassie moved to Seattle, WA to be with and champion his fiance and now wife while she pursues her degrees in Naturpathic Medicine and Traditional Chinese Medicine. He now operates a small business in metal finishing and continues to design and produce new jewelry works and custom wedding and engagement rings.